Price : 13.00 / 18 Set(s)
LONGER AUDIOS 2 channel wireless microphone skm-9000 delivers superior sound quality and professional features. It is designed for a wide range professional application with 200 selectable channels. for easy use with multiple systems, no confusing frequency groups. It can be placed next to speakers with no feedback or distortion. It is perfect for professional use at any events.
Specifications
| | |
| --- | --- |
| Type | Uhf True Diversity Wireless Microphone |
| Model Number | LONGER-Audio's SKM-9000 |
| Brand Name | AXILIXI |
| Use | Entertainment, Meeting, Singing, KTV,Hotel |
| Style | UHF Microphone |
| Product Type | Wireless Microphone |
| Color | Factory Specifications |
| Place of Origin | China |
| Packaging | graphic carton |
| Communication | Dual Channel |
| Shipping | sea or air or express |
Additional Information
| | |
| --- | --- |
| Product Code | LONGER-Audio's SKM-9000 |
| Min. Order Quantity | 20 Piece(s) |
| Port | SHENZHEN or HONGONG |
| Payment Terms | T/T, Western Union |
| Delivery Time | 7-10 Days |
| Packaging Details | 5PCS/CARTON |
Features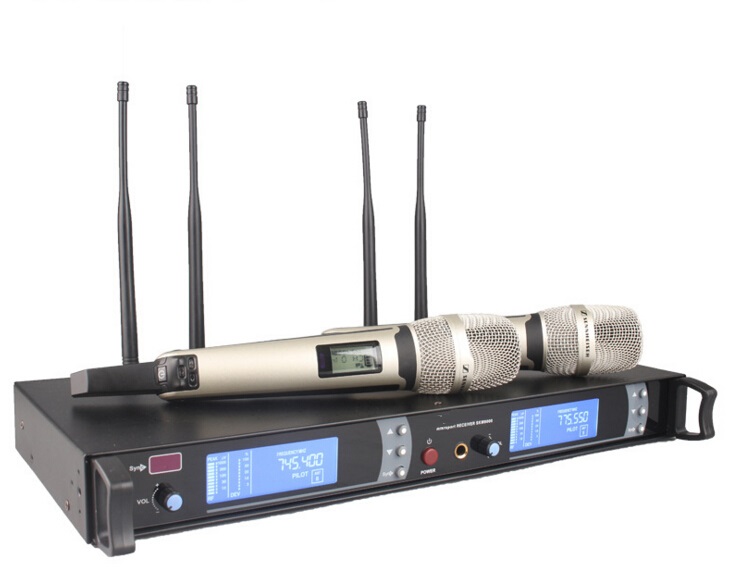 Backlit LCD display showing RF level, AF level, Channel Frequency and mute status.
100 Selectable frequencies on each channel, up to 30 units can be used simultaneously
Built-In Tone Lock Squelch circuit protection from RF interference
Automatic frequency scanning to find and set the best available channel
Automatic transmitter setup, the channel of the transmitter and receiver can easily synchronize
Dual channel receiver, Both microphones can be used at the same time
Two XLR individual outputs and one 1/4" Mixed output
Individual volume control on each channel
Frequency: UHF 610MHz - 680MHz ( comply with new FCC frequency rules )
Frequency Response: 45Hz~18KHz
Battery Life: 12 Hours ( AA batteries )
Range: Up to 600 feet ( 200 meters )
Rack mountable, Fits 19" rack
Customer Reviews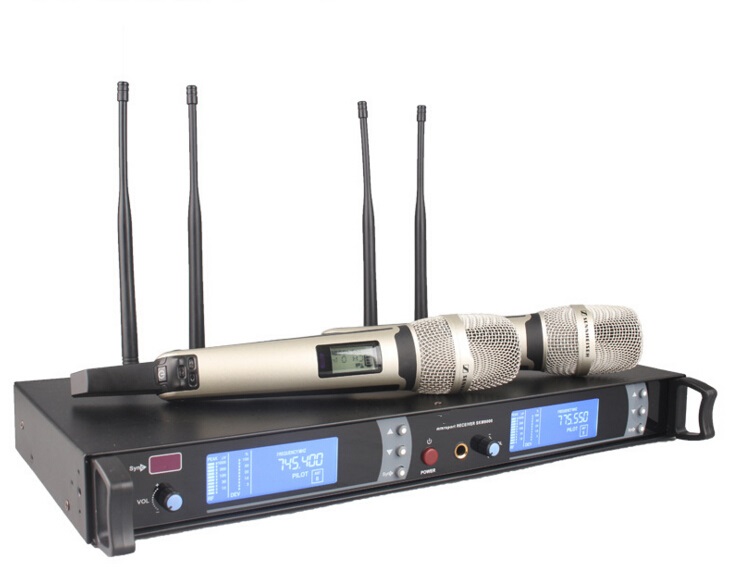 I sing in a Mexican Traditional Banda, when we go play at our gigs sometimes people ask for us to sing next to their table and we do, these work and sound great, it takes a little bit of time to get the right channel that wont be breaking up on you, but overall great clear sound
LONGER SKM-9000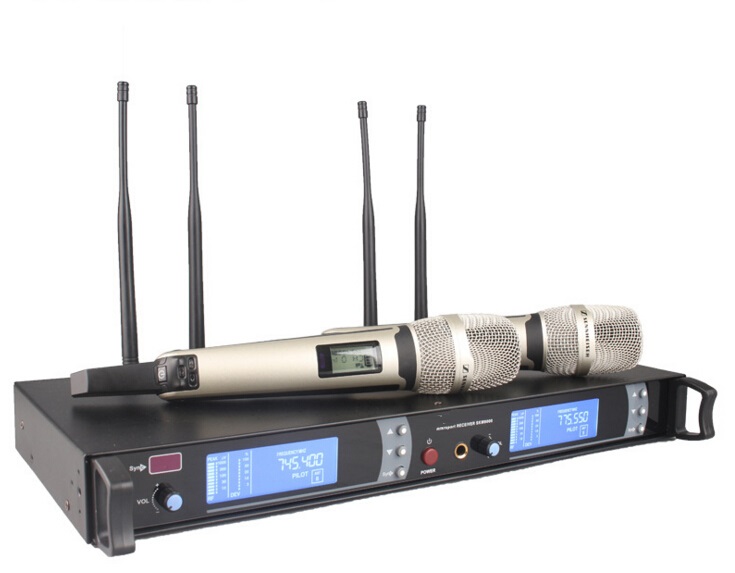 I bought this Microphone on eBay.com. This is truly a masterpiece. The feel is second to none. The sounds is so clean and clear. It's perfect, Money well spent. Keep up the good work LONGER Audio....
Awesome!!!!!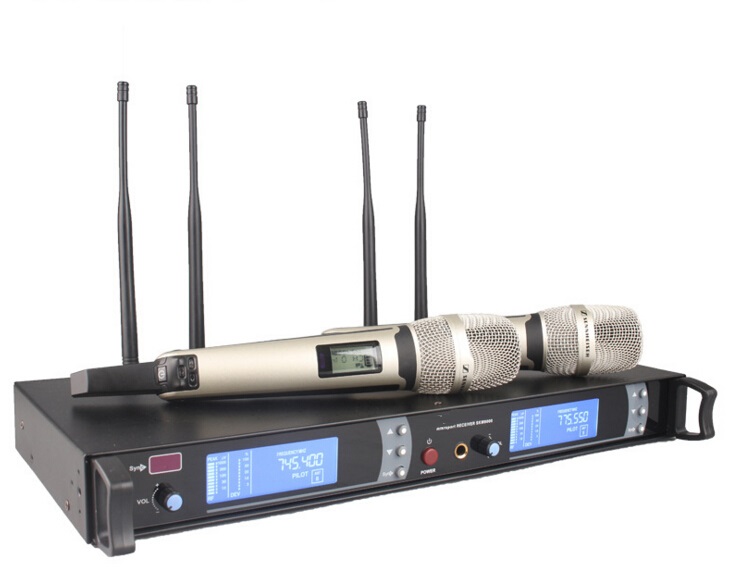 We bought this on EBAY and couldn't be happier! The sound, clarity and range are amazing, plus there is absolutely no feedback when using both microphones. Our friends are so impressed and want to get these for themselves. These microphones are worth every penny.
Sounds absolutely amazing for the money!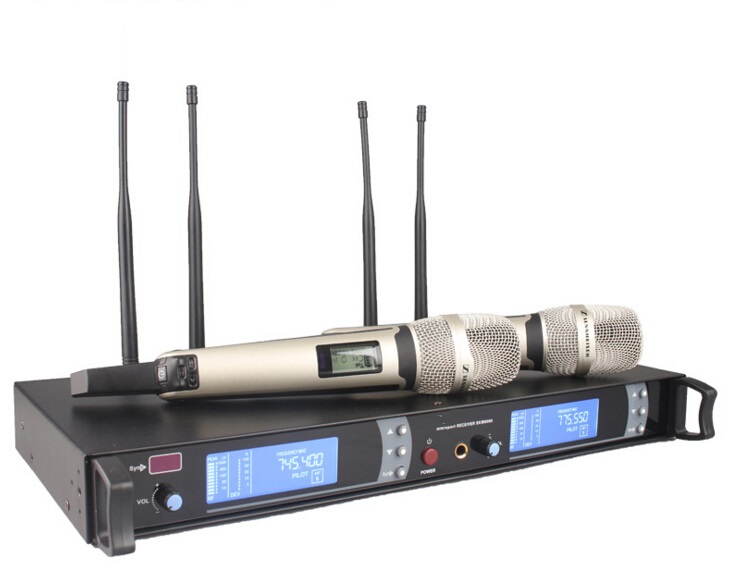 I am building a production company and am proud to have not gotten into debt to build it so far. These Mics are one of those places where I have taken a risk to not spend $800-$1,000 per mic. And I have been exceptionally pleased! I love the fact that you can easily tune the receiver to find the cleanest frequency to broadcast on. I do this at the beginning of every gig and have never had a problem with these mics. These microphones are extremely directional which cuts down on feedback. I have used them as overhead mics for choirs and audience recording mics in a room powered by a huge Meyer sound system, and they worked great. They do not suffer from nearly as much proximity response as an SM58, and I would compare their sound more to the brighter SM87. They also have pretty long battery life (which is observable from both the mic and the receiver). WITH THAT SAID: I do surgery on all of my mics and turn down the internal pot by a 1/4 turn to prevent internal clipping. It would be nice if this pot was accessible from the outside of the mic (at least in the battery compartment) like it is on AT mics. Overall, I have been very pleased with these mics and have started recommending them as inexpensive quality alternatives for many of the churches I have started to consult with.
Unbeatable mic for the working DJ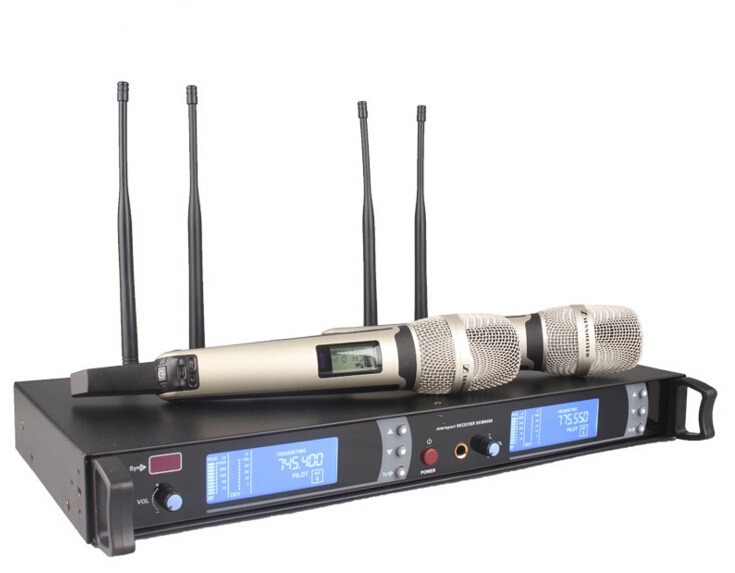 I am the owner of Ground Zero Entertainment in Macomb Michigan. I have a crew of 7 DJ's and 4 live sound techs. We currently do about 100 wedding and 200-250 miscellaneous school and banquet events. I got the ball rolling by purchasing the first unit to see if they road worthy! Please understand we are top notch DJ company. JBL Prx speakers / QSC Subwoofers / Denon MC6000 Controllers / All systems MacBook driven with Virtual DJ. Our current Mic systems that were wired into all our DJ rigs were Shure ULX wireless microphones with B58 elements. Sound great but at a great cost. These microphones are used for wedding Emcee duties. Announcements, toasts and general communication with my dance crown. I was adding systems and needed something DEPENDABLE / SOLID / CLEAR and boy was I surprised. I have been using the same SKM-9000 system for the past 4 years. No signal break ups - no drop outs - when I get into a hall that another DJ might be jumping on my signal - I simple change my frequency group. EASY! 4 years I do about 37-40 wedding a year not to include other events and no problems. After three years one of my hand mics died - I bought a new one for $38 (are you kidding me!) I have two microphones ready for all my wedding events. I purchased another power wart for all my rigs as a spare and one extra microphones per rig as a spare. All seven mobile systems are not LONGER audio - with no fear. By the way the range as good as my Shure systems. I have moved all my ULX microphones to live sound for singers right were they belong! Best working DJ microphone I have ever used at a $269 - No brainer!!